In this chapter, we discuss writing news for radio and television. There is advice on how to simplify your writing and how to structure your stories to be most effective. In the following chapter we give step-by-step guidance on preparing news bulletins.
______________________________________________________
Although all journalism should be a flow of information between the journalist and the reader, listener or viewer, in the broadcast media it is of vital importance that the reporter - through the newsreader or announcer - actually speaks to the audience.
It may be that you are broadcasting to millions of people, but you must write your story as if you are telling it to just one person. You should write as if someone you know personally is listening. Picture a favourite uncle or aunt, cousin or brother and imagine that you are speaking to him or her.
Your style must, therefore, be conversational and as far as possible simple.
Remember also that, unlike a newspaper story, your listeners or viewers cannot usually go back on the bulletin to hear again something they have missed - unless they resort to a catchup service. Nor can their eyes jump around within a story or a page searching for the information they want. In broadcasting the words and sentences are heard once only, one after the other, and all the information must be presented in such a way that it is understandable straight away. This is often called a linear flow of information because it goes in a line in one direction
You must help your listeners and viewers by presenting information concisely and logically.
You must always remember that by switching on a radio or television set, the listeners are inviting you into their homes, their workplaces and their cars.
Write and speak as if you were talking to them as individuals, face-to-face.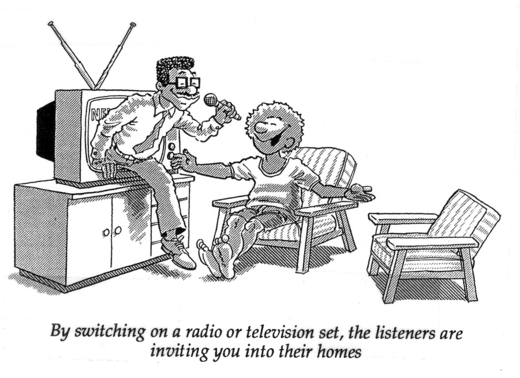 In practice
You should remember all you have been told about writing the basic news story. Be concise, up-to-date, stick to the main point, use the active voice, don't start with quotes and don't overload.
KISS
Keep it short and simple. You should not try to get too much information into any sentence. Although you use the inverted pyramid style of story writing, you may only be able to use one or two concepts (ideas) per sentence. You cannot get as much detail into a radio or television story as you can into a newspaper story.
You cannot expect your listener to understand the Who? What? Where? When? Why? and How? of a story all in the first paragraph or even the first two paragraphs. Although as a good journalist you should not leave any essential questions unanswered, you may find that it takes all the time available for a single story to communicate only a few basic facts. It is often said that you could put all the words in a ten minute radio bulletin on one page of a newspaper.
Stick to one or two key points per sentence. No sentence should be longer than 20 words, except in unusual circumstances. Just as a mother feeds a child one spoonful at a time, allowing the child to swallow each spoonful before taking the next, you should spoon feed your listener. Give them one piece of information at a time so that it can be digested before the next piece.
Where necessary, split a long and involved sentence into two or more shorter clearer sentences, as you would in conversation.
RIGHT: 
Japanese boats have returned to fish in Fijian waters.               

They were banned last year because of an international row over net sizes.       

Now they are back in the waters off Vanua Levu.       
WRONG:
Japanese fishing boats, which were banned from Fijian waters during an international row over net sizes last year, returned to fish in the waters off Vanua Levu on Monday.
If you feel the need to stress a certain word or phrase in reported speech, to emphasise that these are the actual words used, underline them so the newsreader can add the stress with their voice. Again, it is better to use actuality where possible.
Give a guide to pronunciation
Pronunciation is a very large field. Most newsrooms should have a pronunciation guide for place names and other difficult foreign words.
Good dictionaries should give you correct pronunciations, but if you are in doubt, check with a senior journalist or someone who is likely to know the correct pronunciation. For example, if it is the name of a species of fish, check with a fisheries officer.
When writing an unfamiliar word for the newsreader, make their task as simple as possible by writing it phonetically. For example, the state of Arkansas should be written as ARK-en-sor; the French word gendarme becomes JON-darm, placing the stress on the syllable in capital letters.
Do everything you can do to make the message clearer.
Writing for television
Although most of the rules for broadcast writing (such as KISS) apply to both radio and television, there are a few additional factors to remember when writing for television.
Making television news is a more complicated process than producing radio news - which can often be done by one person. Television always involves several people, performing specialist tasks such as camera operating, scriptwriting, bulletin presenting, directing, studio managing, lighting and sound mixing.
Television also involves two simultaneous methods of presenting information - sound and vision. Of the two, vision is usually the most effective in giving details quickly. For example, you could take several minutes to describe a crash scene which can be understood from a ten-second film segment. The words in television usually support the pictures, not the other way round. That is why television reporters usually write their scripts after they have edited the videotape (or film). You usually have to write your script so that the words match the pictures which are on the screen. This requires good language skills, especially in simplifying complex language. If a newsreader has to read your script live - perhaps from an autocue - it will help them if you keep the words and grammar simple and the sentences short. (An autocue – also called a teleprompter - is a device which projects a magnified image of the script on a clear screen in front of the camera lens, in such a way that only the presenter can see it. It is invisible to the viewers at home. It is used so presenters do not need to keep looking down at their scripts.)
Of course, the words become more important when there are no pictures to illustrate the story, only the sight of the newsreader's head and shoulders. But you should always try to think of ways of presenting some of your information visually, otherwise you are wasting half of your resources (the vision). For example, if you are telling about a new tax on beer, you will probably simultaneously show pictures of a brewery and of beer being produced and consumed. You might also want to show a graph showing how beer sales and taxes have increased over the past few years. And you may want a clip of the relevant minister explaining why he is increasing the tax.
As well as being aware of how your words will support the pictures, you must also consider the effect the pictures will have on your viewers' ability to listen to the words. For example, if you have some very dramatic pictures of an explosion, you should not write your script in such a way that the important facts are given while viewers have all their attention on the picture. Perhaps leave a couple of seconds without any commentary during the explosion, then bring your viewers' attention back to the words gradually. Remember that every time you change the picture on the screen, your viewers' attention is distracted away from the words while they concentrate on the new image. Bear this in mind when writing your script to fit the edited pictures.
Because television viewers have to concentrate on both sight and sound, you cannot expect them to concentrate on lots of details while there are interesting pictures on the screen. So if you want to give some very important details, either do it when the camera returns to a picture of the newsreader, or do it through graphics such as maps, diagrams, graphs or tables or through captions.
Captions
The names and titles of speakers are usually written on the screen in captions. These must be simple and clear, so that your viewers do not have to spend much time reading them. Remember too that your viewers may not all be able to read. If you know that literacy rates are low among your audience, putting the written word on the screen will not alone explain essential details. For example, in countries with high literacy rates, television newsreaders or reporters use only captions to identify speakers. You may need to both present a caption and also read the name aloud.
Subtitles
Subtitles are text versions of the spoken words in the bulletin or program. They usually run along the bottom of the screen so viewers can read them while still watching the pictures and listening to the words being spoken. They are mainly used for two reasons: to assist viewers who have hearing difficulties (called closed captions) or to translate words in languages other than the language of broadcast. They generally need to be prepared beforehand and they require concentration from the viewer, so they should be done professionally if possible.
To avoid having to use subtitled translations of words spoken in another language, it is possible to over-dub what the speaker is saying by fading down the original sound and getting another voice to read a translation over it, either a fellow journalist or a professional voice actor. Simpler still is to fade down the words being spoken so they can barely be heard then the newsreader (or reporter) can summarise what is said in reported speech.
Stand-ups
One final word about writing for stand-ups. These are the times when a reporter speaks directly into the camera at the scene of the story. Each stand-up segment in news is normally about 10 or 20 seconds long, meaning that it can contain several sentences of spoken word. Some reporters write the words they will say in sentences on a notebook then read them out in front of the camera. However, this means that the reporter cannot look into the camera while also looking down to read from the notebook.
It is better either to memorise the sentences then put the notebook to one side or to remember only the key words you want to use then speak sentences directly into the camera. In both cases, it helps if you keep the language simple and your sentences short. You must also avoid using words which might be difficult to pronounce. If you try to say "The previous Prime Minister passed away in Papeete", you will get into difficulties because of all the "p" sounds. Rewrite the sentence as "The last Prime Minister died in Papeete."
Listen to your listeners or viewers
Radio – and to some extent television - is a form of conversation between broadcasters and their listeners (or viewers). While in its early years radio listening was almost obligatory in many countries, today citizens have much wider choices of media and so broadcasters cannot take them for granted.
Broadcasters and their audiences have the technologies to make their conversations two-way affairs, which better serves the interests of both content producers and its consumers. Broadcasters make the kind of programs that audiences say they want and the audiences get content better suited to their needs and desires. It is therefore important that broadcasters listen to their listeners and viewers. Find out how well your programs are received and if there was anything important missing. How was the presentation style? Were essential questions left unanswered? What do your listeners want more of? What less?
Tools such as audience surveys are useful in getting numbers to analyse services in general but modern technologies make it possible to get instant, individualised feedback to each program, segment or news story. We talk more about this is our chapter on New media and social media.
TO SUMMARISE:
Follow these simple writing rules:
KISS - keep it short and simple
Try to avoid quotes on radio or in television scripts

Avoid unfamiliar words

Repeat important words

Keep punctuation simple

Simplify numbers

Avoid abbreviations

Show how to pronounce difficult words
This is the end of the first part of this two-part section on radio and television. If you now want to read on, follow this link to the second section, Chapter 49: Radio and television bulletins
__________________________________
For tips on how to conduct on-camera
interviews, go to Media Helping Media: